Rejecting any possibility of a mahaghatbandhan (grand alliance) between non-BJP parties, Samajwadi Party supremo Mulayam Singh Yadav on Wednesday announced that the ruling party would be going solo in the upcoming Uttar Pradesh Assembly election. Mulayam also announced the candidates for 325 seats.
Name of candidates for rest of the 78 seats will be announced soon: Mulayam Singh Yadav
Samajwadi Party ka kisi se alliance nahi ho raha: Mulayam Singh Yadav pic.twitter.com/8Sy3xsAQbg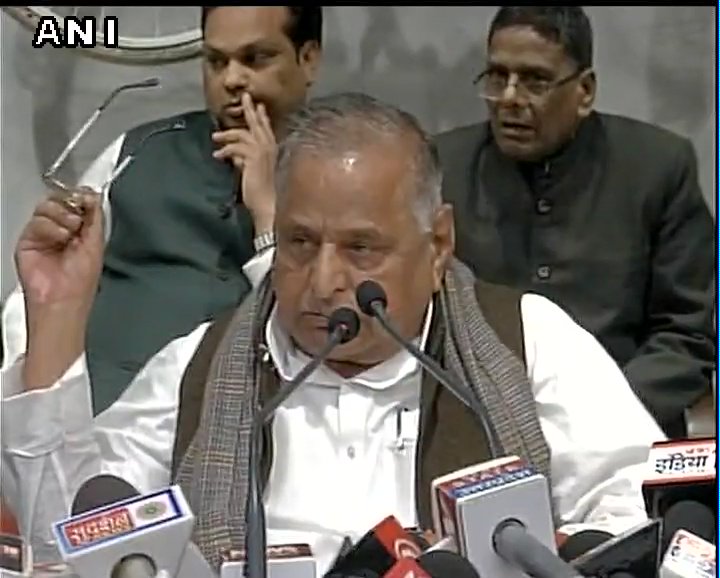 We have declared list of 325 candidates for upcoming 2017 assembly polls, 78 seats still remain: Mulayam Singh Yadav
Jo UP jeet ta hai vo Dilli jeet ta hai, ye chunaav aapka hai aur 28 February se pehle hoga:Mulayam Singh Yadav to party workers
PM bohot kasht jhel kar yahan tak aaye hain,saadharan parivar se hain. Par BJP ne apne vaade poore nahi kiye hain:Mulayam Singh Yadav
Notebandi ka jawab jaldi milega aur vo hum nahi denge, janta degi:Mulayam Singh Yadav
The former chief minister said that the remaining 78 candidates will be announced later. The Uttar Pradesh Assembly consists of 403 seats. In the first list released by the Samajwadi Party, 176 candidates are also sitting MLAs.
While Shivpal Yadav will contest from Jaswant Nagar, former UPA minister Beni Prasad Verma's son Rakesh will contest from Barabanki.
The Azamgarh MP added that only he would decide on the candidates for the polls. However, on the question of Akhilesh Yadav's candidature, Mulayam chose to put the ball in the chief minister's court.
Taking on Prime Minsiter Narendra Modi on note ban, Mulayam said that it would not be his party but instead the voters who will give a befitting answer to the prime minister.
Mulayam also questioned the BJP on its promise to deposit Rs 15 lakh into each bank account, and asked the journalists present at the press conference whether BJP has ever spoken the truth.
While praising the prime minister for rising from a modest background, Mulayam criticised him for not fulfilling his electoral promises.
During his meeting with party workers, Mulayam is reported to have told them that one who wins in UP will go on to win at the Centre, while adding that the elections might take place before 28 February.
Reports had earlier suggested that the Samajwadi Party could form a Bihar-like grand alliance with the Congress and Ajit Singh's RLD to fight the BJP.